Colourful ribbons for our cities in times of climate change: near-natural urban flowering areas along transport axes to promote ecological functionality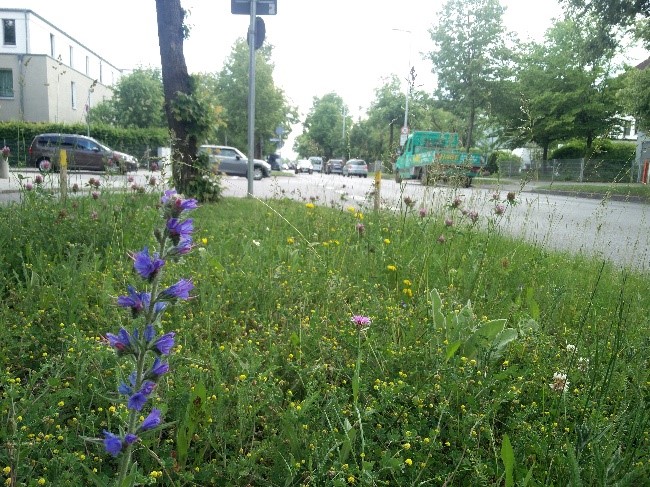 The living conditions in urban areas are changed by climate change. The accumulation of extreme weather events such as longer heat and drought periods or heavy rain events change the city planning framework conditions on the background of a worldwide increasing urbanisation. Urban green becomes increasingly important in view of adaption and mitigation measures. The selection of suitable city green must therefore be adapted to changing environmental conditions.
Soil sealing in urban areas is basically negative for biodiversity and the related ecosystem services. The ZSK subproject "Colorful Ribbons" therefore deals with the development of ecological revalued roadside verges as element of green infrastructure. The central challenge in science and pratice is to combine the aims of insect support and climate adaptation with multifunctional urban green areas. With increasing urbanisation (proportion of sealed areas, building density, traffic density etc.) the diversity and abundance of plants and pollinator species decreases, what is enhanced in urban areas by e.g. fragmentation of urban micro habitats. The genetic exchange os isolated animal and plant populations is therefore in urban areas only possible to a limited extent.
Specific measures for the promotion of pollinators an their ecosystem services are therefore necessary. Especially in densely populated areas, pollinators can find many suitable habitats, but they can be ecologically revalued and interconnected by a promotion of food supply. Therefore the project aims for the increase of the plant diversity of the roadside greenery along big road axes (city center - suburbs) in Munich by sowing of native wild plants.
Urban green can also provide a climatic regulation functions besides biodiversity effects. In addition to impro­ving the living condi­tions of polli­nators, the design of flowering strips should also be investi­gated with regard to micro­climatic site characteristics in compari­son to con­ventional planting.
The following scientific and practical goals are aimed for in the "Colorful Ribbons for our Cities" subproject:
development and testing of a flowering area network along several main urban traffic axes to pro­mote polli­nators and urban climate adap­tation
evaluation of climate resilience and attractiveness of different species mixtures for pollinators and other beneficial insects in compari­son with existing flower­ing areas and green spaces
climatic optimisation of the size and distances of the flower­ing areas as corridors for polli­nators and other beneficial organisms along an urban-­rural gradi­ent on the basis of their move­ment behaviour
improving the quality of life of urban dwellers through the micro­climatic and aesthetic effects of flower­ing areas
recommendations for practicable compromises between the require­ments of nature conservation and urban green manage­ment in order to increase urban climate resili­ence and the bio­diversity of polli­nators
More information can be found on the project website: https://www.bluehende-baender.de/